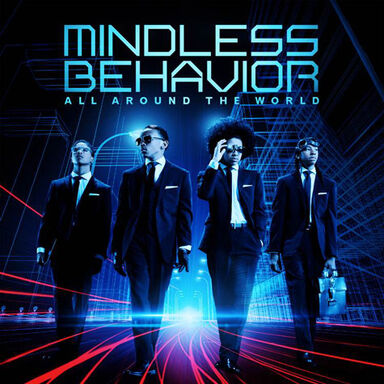 All Around the World is the second studio album of the American boy band, Mindless Behavior. The album was released on March 12, 2013. The album features artists such as Soulja Boy, Jacob Latimore, and Lil Twist. The album also has the same name as the film, Mindless Behavior: All Around the World. Like the previous album, this album has the elements of pop and R&B in the music, and focuses on primarily on themes like love.
Description
The album is more and sounds more mature from their debut album, #1 Girl since the boys have been growing up and how they have been growing up for the last 5 years since they became a boy band. The album is also about their experiences since they have been "all around the world".  
Track Listing
3. Used to Be
4. I Lean (featuring Soulja Boy)
5. Pretty Girl (ft. Lil Twist and Jacob Latimore)
6. I'm Falling
7. Ready for Love
8. Band-Aid
9. Forever
10. Video
11. Brightside
Bonus Tracks
12. Looking For Ya
13. Bang Bang Bang
14. Your Favorite Song
15. House Party                              
Album Chart Position
"The young men of Mindless Behavior -- Princeton, Prodigy, Ray Ray and Roc Royal -- score their first No. 1 on Top R&B/Hip-Hop Albums (Billboard) with their sophomore offering "All Around the World." Selling 37,000 copies in its first week (according to Nielsen SoundScan), the No. 1-opening beats the Los Angeles boy band's 2011 debut "#1 Girl" which opened at No. 2 with 36,000 copies. "#1 Girl" went on to spend 55 weeks on the chart and has sold 296,000 copies to date."  
Trivia
The album was three days before the film, All Around the World was released into theatres on March 15, 2013.
Lil Twist and Jacob Latimore originally were guest stars on the #1 Girl Tour, but are now also featured on the song, "Pretty Girl".
The album is going on tour, like their previous album which is called the "All Around the World Tour".
The album's orignial title was "House Party", but is also a song on the bonus track of All Around the World (Deluxe Edition).
Album Photos