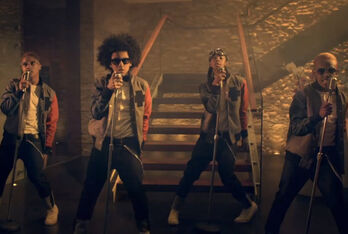 Used to Be is the third track released from the second studio album, All Around the World by American boy band, Mindless Behavior. The music video premiered on 106 & Park on June 10, 2013. The music video was directed by Walter W. Millshap III and Phil The God.
Music Video
The video follows the four at the Conjunction house, Princeton is at the swimming pool with his girlfriend, Roc Royal is watching a movie with his girlfriend in a screening room, Ray Ray is with his girlfriend in the living room, and Prodigy is in his room sad over the break-up with his girlfriend ever since she left him for other guy as he drops her necklace in a little water by his window in the room he is in and finds a picture of what they used to be. The music video also features MB performing the song on the staircase, a sunset view of the ocean on a cliff, and a window view from the mansion. The video ends with MB walking away while the video slowly ends.
Trivia
This is the first music video to not be on Mindless Behavior's VEVO, but was later added on July 30, 2013.